Publications
The Big Ten of Grammar


Synergy Books, 2010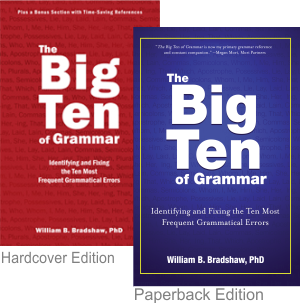 Do you have trouble knowing whether to say "lie" down or "lay" down?
What about commas, periods, semicolons, and question marks—do they come before or after the quotation marks?
These are age-old issues that plague our writing and fog up our statements. Clear communication starts with having a strong grammatical foundation that helps you make clear-cut statements.  The Big Ten of Grammar offers easily understood ways to recognize and fix the ten most frequent grammatical errors that people generally make.  Not making any of these errors will make what you say more coherent and convincing.  Using good grammar will result in your friends and business associates hearing you loud and clear.
Order The Big Ten of Grammar online at:
Bookstore of this Web site- Hardcover Edition Only
Or the following retailers:
Sinister Among Us


Tate Publishing, 2007
After a distinguished career as a financial turn-around specialist, Brad Green comes out of retirement to serve as interim president of a small, midwest college beset with a financial crisis. In short order he discovers the problems are laced with sinister overtones that go well beyond financial difficulties.
As Sinister Among Us unfolds, Brad matches wits with those in league with Satan and the demon-possessed mastermind behind the problems. Persistent, systematic thinker that he is, Brad enlists the help of his boyhood friend who is now a respected scholar and authority of biblical demonology and a Catholic priest with expertise in exorcism.
Sinister Among Us leads the reader through a maze of financial manipulation and trickery and the complexities of demon possession and exorcism that have their basis in centuries of research and ancient documents. It is not until the night before he's scheduled to go back into retirement that Brad finally is able to assemble the pieces of the puzzle to determine what exactly has happened and who is responsible.
While the main plot and sub-plots in Sinister Among Us are fictitious, they are inspired by actual circumstances, scholarly research, and personal knowledge. Never before have the intricacies of biblical demonology, demon possession, and exorcism appeared in a single publication especially geared for the layperson. Sinister Among Us is unmatched in publication history.
Sinister Among Us is available for purchase from the following retailers:
Fundraising: the System that Works


SterlingHouse Publisher, 2004
Any person—paid professional or volunteer, board or committee member—who has responsibility for raising money for not-for-profits should have this book.  Fundraising: the System that Works is a valuable resource for both the novice and the experienced fund-raiser.
There is a special section for churches and ministers.  Most religious organizations provide training for their leaders, but there are very few well-grounded training opportunities for those involved in fund-raising for churches and other religious-related institutions.  This book will help fill that void.
Fundraising: the System that Works also is a good resource for the fund-giver as well as the fund-raiser.
Order Fundraising: the System that Works online at: