Meet Dr. B., Grammar Guru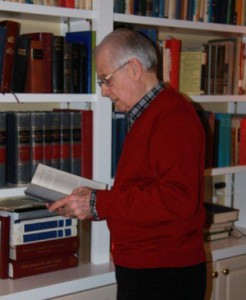 William B. Bradshaw, a graduate of the University of Missouri majoring in English and Yale Divinity School studying for the pastoral ministry, earned a PhD degree at the University of St. Andrews, Scotland. Bradshaw studied under Dr. Matthew Black, renowned Old Testament scholar and authority on the Dead Sea Scrolls and was well-known for meticulous attention to grammatical details. Bradshaw's area of scholarship was biblical studies, concentrating on Hebrew history and literature.
After serving in the pastoral ministry, Dr. B, as he is affectionately referred to, transitioned to the academic world, where he served on college campuses as an English instructor, the director of development (fundraising), chief financial officer, and president. Dr. B is known as a financial turnaround specialist for not-for-profit institutions and writes and speaks with unusual clarity about complex subjects. His friends refer to him as a "grammar guru."
Since retiring in 2001 from full-time employment and having to go to the office every day, Dr. B has written three books. The first, Fundraising: the System that Works, was published in 2004. It focuses on the specific "system" of fundraising he developed from the experiences he had during his forty-year career as a college president, the development officer of a community college, a classroom instructor, the minister of large city churches, and as a consultant for not-for-profit institutions and agencies. His approach to fundraising works for all kinds of not-for-profits, regardless of size or focus. This book is a valuable resource for both the novice and the experienced fund-raiser.
The second, a novel, Sinister Among Us, published in 2007, deals with demonology. Dr. B studied at the University of St. Andrews just sixteen years after the end of World War II. European scholars were debating the possible influence evil spirits might have had on the terrible atrocities of that war. Dr. B was asked to tackle this subject and, consequently, became one of the first and only American scholars to earn a PhD degree in the field of demonology from an accredited university. Dr. B wrote Sinister Among Us as a 101 introduction to the subject of evil spirits and put it in the form of a novel so, as the story unfolds, it is easy to remember the important things about demonology. Although Sinister Among Us is a novel, the story is based on actual events.  Dr. B has been applauded for approaching this subject with scholarly reason, omitting the sensationalism that has accompanied Hollywood's many movies about evil spirits.
The final book, The Big Ten of Grammar: Identifying and Fixing the Ten Most Frequent Grammatical Errors, was published in hardcover in 2010 and paperback in 2012. It is the best example of Dr. B's style of presenting difficult concepts in ways that make them easy to understand, a hallmark of his teaching, writing, and speaking. The Big Ten of Grammar is an easy-to-use handbook that concentrates on the ten most frequent verbal and written errors that people generally make, as well as having a bonus section that deals with out-of-the-norm grammatical situations that normally take hours to research. Dr. B teaches how to listen for errors rather than being overwhelmed with having to concentrate on umpteen parts of speech and rules of grammar. Not making these errors will make what you say and write more coherent and convincing. Using Good grammar will result in your friends and business associates hearing you loud and clear and in your feeling better about yourself. Dr. B considers this book one of his finest and most timely scholarly endeavors.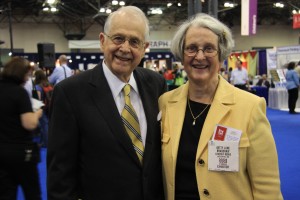 Dr. B resides with his wife, Betty June, in Chesterfield, Missouri, a suburb of St. Louis. They grew up across the street from each other in a small town in the Ozarks of southwestern Missouri, attended college together, and were married in 1954. They have four children, nine grandchildren, and one great grandchild. In spite of his demanding professional life, Dr. B has always found time for his family.  He currently spends most of his time writing, speaking, and consulting, and having fun with his family. Learn more about Dr. William Bradshaw by turning to the other pages in this website.