Sinister Among Us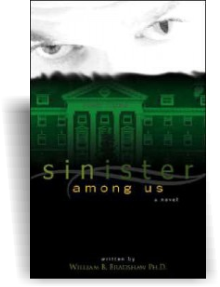 Sinister Among Us Tate Publishing, 2007
After a distinguished career as a financial turn-around specialist, Brad Green comes out of retirement to serve as interim president of a small, midwest college beset with a financial crisis. In short order he discovers the problems are laced with sinister overtones that go well beyond financial difficulties.
As Sinister Among Us unfolds, Brad matches wits with those in league with Satan and the demon-possessed mastermind behind the problems. Persistent, systematic thinker that he is, Brad enlists the help of his boyhood friend who is now a respected scholar and authority of biblical demonology and a Catholic priest with expertise in exorcism.
Sinister Among Us leads the reader through a maze of financial manipulation and trickery and the complexities of demon possession and exorcism that have their basis in centuries of research and ancient documents. It is not until the night before he's scheduled to go back into retirement that Brad finally is able to assemble the pieces of the puzzle to determine what exactly has happened and who is responsible.
While the main plot and sub-plots in Sinister Among Us are fictitious, they are inspired by actual circumstances, scholarly research, and personal knowledge. Never before have the intricacies of biblical demonology, demon possession, and exorcism appeared in a single publication especially geared for the layperson. Sinister Among Us is unmatched in publication history.
Sinister Among Us is available for purchase from the following retailers: